LOOK TO THIS PAGE FOR LETTERS OF INTEREST FROM PROMINENT PRIVATE AND PUBLIC ORGANIZATIONS THAT HAVE EXPRESSED INTEREST IN THE PROJECT DEVELOPMENT


===========================================================================================================================


------------------------------------------------------------------------------------------------------------------------------------------------------------------------------------------------------------------------

Letter of Interest from
Driscoll's Berries
------------------------------------------------------------------------------------------------------------------------------------------------------------------------------------------------------------------------

Letter of Interest from Best Western Beach Resort - Monterey

------------------------------------------------------------------------------------------------------------------------------------------------------------------------------------------------------------------------
Letter of Interest from Wallace Memorial - Salinas

------------------------------------------------------------------------------------------------------------------------------------------------------------------------------------------------------------------------
Letter of Interest from Pulford Insurance - Salinas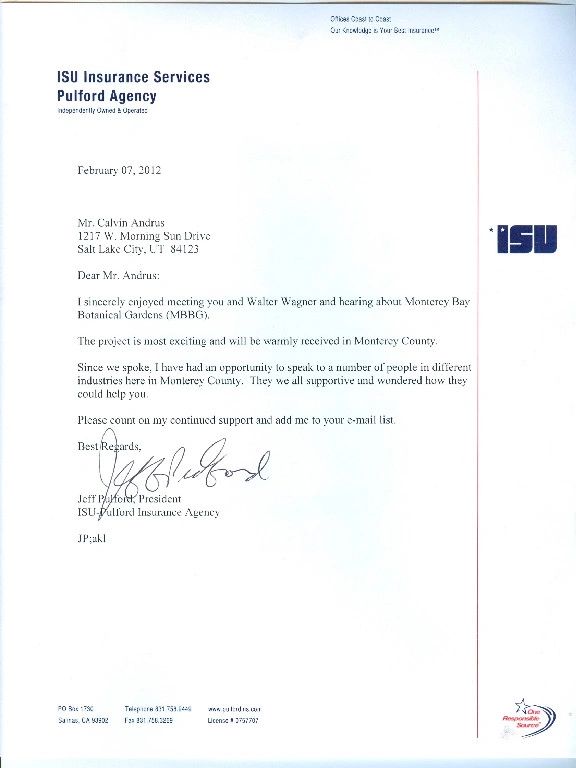 ------------------------------------------------------------------------------------------------------------------------------------------------------------------------------------------------------------------------

Letter of Interest from Monterey County Supervisor Potter's Office
------------------------------------------------------------------------------------------------------------------------------------------------------------------------------------------------------------------------
Letter of Interest from A New Prospective Restoration Corporation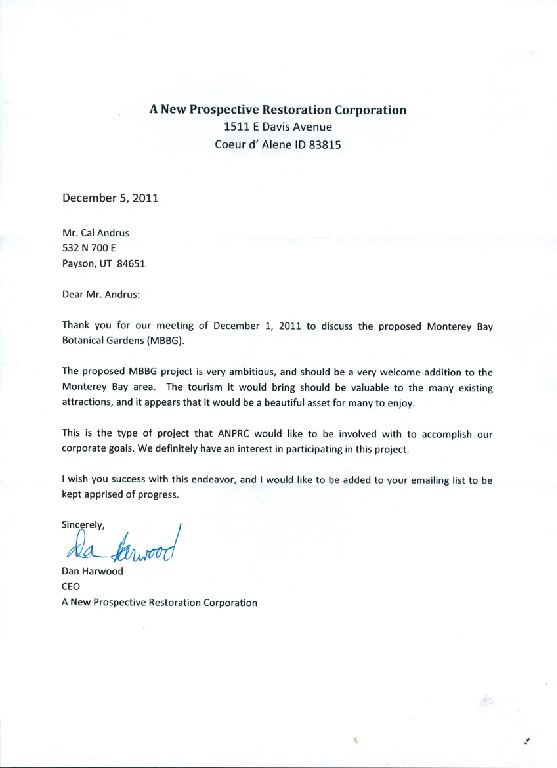 ------------------------------------------------------------------------------------------------------------------------------------------------------------------------------------------------------------------------
Letter of Interest from Solis Winery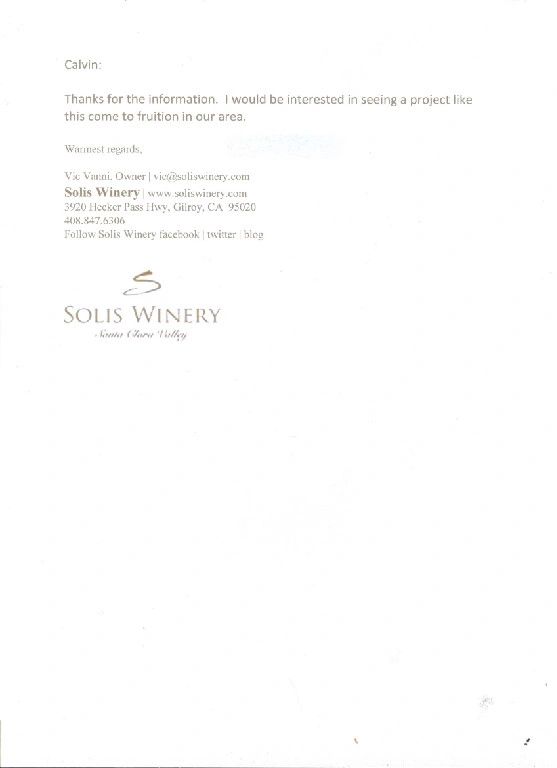 ------------------------------------------------------------------------------------------------------------------------------------------------------------------------------------------------------------------------
Letter of Interest from Shamrock Seed Company
------------------------------------------------------------------------------------------------------------------------------------------------------------------------------------------------------------------------
Letter of Interest from Santa Cruz Supervisor Leopold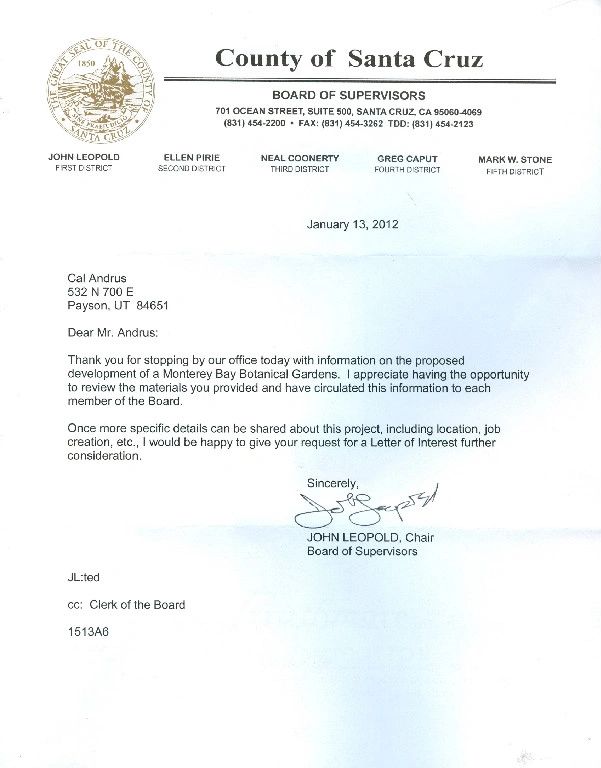 ------------------------------------------------------------------------------------------------------------------------------------------------------------------------------------------------------------------------
Letter of Interest from
------------------------------------------------------------------------------------------------------------------------------------------------------------------------------------------------------------------------
Letter of Interest from
------------------------------------------------------------------------------------------------------------------------------------------------------------------------------------------------------------------------

A sampling of the wide array of plant types that will be displayed at the botanical garden. Below is their name and a link to their description.
The above images and their corresponding species are the following, beginning with the top left:
Note: These images are chosen because they represent the diversity of plant orders: from the non-vascular mosses and liverworts, to vascular non-seed (spore) plants (ferns, horsetails, etc.), to vascular non-flowering seed plants (conifers, cycads, welwitschias, etc.) and finally to vascular flowering plants (monocots and dicots). A detailed description of these plant relationships will be found in the Visitor Orientation Center along with a short evolutionary walk.
A more detailed description of the above plants can be found at these links:
Credit: C
obbled together by Ryan Kitko from images available on Wikimedia Commons

Other non-flowering, land-plants of interest include:
While the botanical garden may construct a small salt-water aquarium for display of selected ocean plants (
algae
), the focus will be on land-plants.

===========================================================================================================================

Looking to Travel in Style to Monterey Bay Botanical Garden
===========================================================================================================================